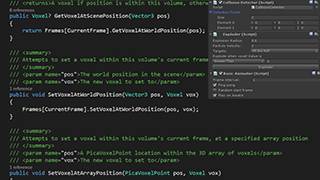 Fully Scriptable
PicaVoxel isn't just about pretty voxel art! With full scripting support, all of the voxel data is available to you at runtime.
Destroy, build, and detect collisions with individual voxels in your scene with the included utility scripts.
Check out the manual, demo games, and tutorial videos for further examples of how to work with PicaVoxel volumes in realtime in C#.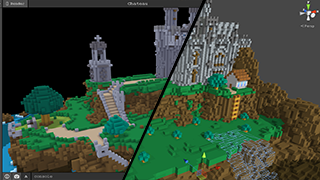 Import from MagicaVoxel and Qubicle
MagicaVoxel and Qubicle are two of the most popular voxel art tools around. Import your existing MagicaVoxel .vox and Qubicle .qb files into Unity as PicaVoxel volumes.
Once in Unity, you can use PicaVoxel to make last-minute changes to your imported creations, or just get right on with using them in your game!